The Masked Offender Series
General
Author
Rivfruifv


Late™Sir-Soundwave (Co-Writer, Episodes 4-5)

Genre
Action/Comedy
Original run
April 25-May 25, 2013
No. of episodes
6
Runtime
11:48 minutes (excluding "Ep. 1: Medizard")
Cast
Protagonist
The Masked Offender


Optimus Pootis

Heroes
Dr. Uppengraden


Private Funnyman
Cheese Scout
Spy of Influence
Old Bloke

Antagonist
Blu Nnnngh Sniper


Meganom
The Mastermind Vagineer

Villains
Handsome Rogue


BLK Vagineer
Mummy Lovers
Pumpkin Men
Nnnnghbots
Touching Story

Others
Spiritual Demoman


Fruit & Vegetable
Typewriter
Old Man Soldier
Demohead
Iris
The Masked Offender Series was a TF2 Freak series created by YouTube user Rivfruifv. It spanned a prologue and five episodes within it's month-long run before being canned abruptly due to generally negative response from creators of certain Freaks featured in the series.
Plot Summary
Edit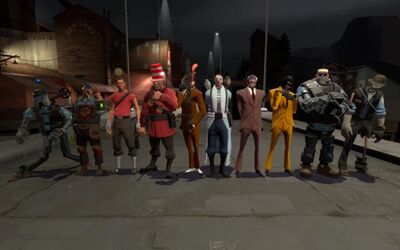 The series revolves around the titular Masked Offender, the series protagonist, on a quest to stop BLU Nnnngh Sniper, the series antagonist. He meets many friends along the way who agree to help him on his adventure, as well as many foes who get try to stop him in his path.
Controversy
Edit
Though the series received positive response from fans, creators of certain Freaks featured in the series responded negatively to the series. This was mainly due to Rivfruifv not asking permission to use specific characters, most notably BLU Nnnngh Sniper. Another cause for the criticism of the series was an episode that featured Medizard, which was discarded after being met with unfavorable criticism from Kugawattan, as well as the creation of the Mastermind Vagineer's robot army, dubbed the "Nnnnghbots", which was heavily disapproved by OluapPlayer, SarisKhan and Kugawattan. After harsh criticism from the latter of the three, the series was forcefully cancelled after running for only a month, with only five episodes created in that time span. Soon after the cancellation, Rivfruifv apologized for his actions concerning the series.
The series was later forcefully deemed non-canon by both Rivfruifv and Kugawattan, the latter of which deleted the article for the series from TF2 FreakShow months later for the exact same reason. Both Rivfruifv and Late™Sir-Soundwave, the co-writer for the last two episode of the series, have also stated numerous times that they no longer want anything to do with the series, as hinted by certain actions done in critical response to the series.
Episode Guide
Edit
Community content is available under
CC-BY-SA
unless otherwise noted.